This was the most relaxed and comfortable I had been all winter. I was originally just going to be in Reykjavik and Amsterdam but decided I wanted a little break in Gent for the New Years weekend… so I got a train ticket and set off.
---
Train and Arriving
The ride over was fairly short and, because I booked the trip for early in the day, I was able to look out of my window to see farm animals and meadows for miles on end. When arriving in Gent I had yo rely on the screens in the station and maps I got at the Visitor's Center because I didn't have any internet or phone. I made my way by bus to my hosts' dorm and waited. It was a little chilly (which it turns out is unusual for Gent) but a pretty good time.
Couchsurfing
I didn't get so lucky in Reykjavik with Couchsurfing so had to pay a buttload of money to stay in a hostel, same for Amsterdam. But I did get lucky in Gent and my host was the most amazing person ever! She was a student like me but from Canada and working on her Master's. She made me cookies and offered me her bed – the girl was a godsend. When I arrived, she had guidebooks and a really cool map of Ghent for Young Traveller's, which you can see below (this isn't the version I got but pretty similar).  I basically followed the route with the most markings on it to see if anything was open (most things were not) and just to hang out.
And from there I set out to get to know the city, regardless of it being a weekend and everything being closed. I took this to mean that I would get to walk and get some nice photos, so that's what I did.
The City in a Day
Most of my day involved walking through trails to the downtown Christmas Market and
areas around it looking over canals, peeking inside fancy stores and chocolate shops, and even walking through the Graffiti Street.
I also walked to the plaza with the Jacob Van Artevelde statue that points to England.
I particularly loved the views of the old buildings and row houses along the canals. Theywere very low-key beautiful and relaxing. The best remedy for a cold day. I gave myself a few higgle points there with my hot cocoa in hand.
The Christmas Market
I loved exploring the Christmas Market, getting a delicious hot chocolate from Chocolaterie Cedric Van Hoorebeke and marveling at the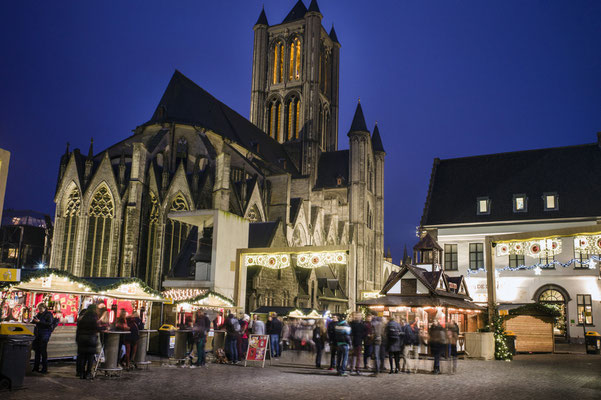 beautiful structure of Belfort. Because I was there before noon, most of the little shops were closed so I got time to walk around and admire (very budget-friendly) and even get a street waffle (which tasted like eating a doughnut) for breakfast!
We (my host and I) planned to come back that night to see the lights and the tree lit up but we did this instead.
Movie Night In!
The last night I just wanted to relax in so my host and I watched the Sound of Music which I had never seen before but now I get to check off of my list. We marveled at the Austrian landscape and teared up during the sad moments. I loved it!
After that we slept and I got up the next day at 3am to head to the train station. The walk to Sint-Pieters was short and included a nice view of Citadelpark and the sounds of birds chirping. I made it well in time and spent the entire day traveling by train, bus and plane until I got home. There, I was surprised by a message from my host having set up the tent I left her in her dorm room!
Overview
Basically, I had a really great time in such an elegant and lovely city. But one thing is for certain and that is that I have to come back, preferably during the Spring or right at the start of the Christmas Market. But all in all, I had a good time catching up on some reading and meeting a new friend! Have any of you been to Gent? if so, any recommendations?
---
Friend me on Couchsurfing here: https://www.couchsurfing.com/people/osiris-mancera
*Bonus: Photo Collage